Can Additional Teeth Be Added To A Partial Denture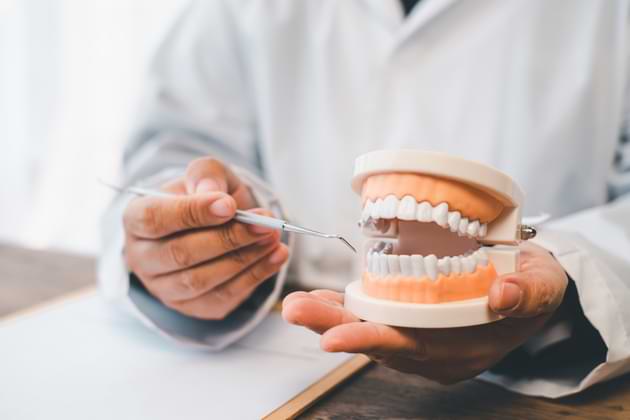 Having a new partial denture fitted can be life-changing, but what happens when soon after having it fitted you lose another natural tooth? Can you have additional replacement teeth added to the denture or do you need an entirely new one made?
In this post, we take a look at this topic further as several factors can determine whether you can have an additional replacement tooth added to a partial denture or not.
How do I know if I can have an additional tooth added to my partial denture or not?
The simplest way to determine whether you can have extra teeth added to your denture is by speaking to your dental prosthetist. They will be able to determine whether it's a simple procedure and or whether your dentures will need to be re-made.
Factors such as the location of the lost tooth in proximity to the partial denture, the materials that your partial denture is made from, and the condition of your remaining teeth and gums all come into play when considering whether another replica tooth can be added to the device.
Who may not be able to get a tooth addition to their partial dentures
Those with flexible dentures
Most types of dentures can have a tooth added to them except for flexible materials such as Valplast. As they are highly flexible, additional teeth cannot be added to these dentures. While they are a great denture option, they aren't so great if alterations need to be made in the future.
When the missing teeth are far apart from one another
If you have lost a tooth and it's very far from where your dentures are, it may be easier and more comfortable for you to have a new denture made. Your dental prosthetist Gold Coast will discuss this with you and which options will be best given your specific circumstances.
More tooth loss is imminent
If you have recently lost a tooth and your dental prosthetist determines upon inspection that you will likely lose additional teeth or they'll need to be extracted, they may suggest having this done beforehand so that you don't have to get another denture made in the near future.
How long will it take to add an extra tooth if able?
The good news is if your dental prosthetist has a lab onsite, you can have an additional tooth added to your partial dentures in as little as a day. This ensures you are not without your denture for longer than you need to be.
How does it work?
Generally, when you call to book an appointment, the dental prosthetist will want to see you twice on the same day, once in the morning and the other in the afternoon. At the morning appointment, they'll take an impression of your gums and teeth with your dentures in. They will colour match the tooth and work out the best shape. Unfortunately, you will be without your dentures until your afternoon appointment. Your prosthetist will work on your dentures during the day so that when you come back for your afternoon appointment, they will have the tooth added and they will be ready for you to wear. Your dental prosthetist will ensure that the dentures fit you comfortably and they look right before finishing up your appointment.
Do you need an additional tooth added to your partial denture?
If you're on the Gold Coast and need an extra tooth added to your denture, contact the expert team at Denture Care Professionals Australia, and we'll happily assist.